Martina Fischer-Klee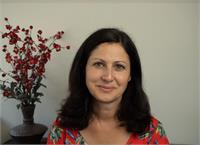 I grew up in a rural environment in Austria 40 years ago. This environment nurtured me well and allowed me to build a healthy connection to nature and its rhythms. After university I moved to Vienna and fell in love with the urban vibration and life. I was working long hours to build my career in the corporate world in Management Accounting and B2B Marketing.
In 2011 we moved as a Family to the Pacific Northwest. I became a full time mom, after my 2nd son was born in 2013. Raising two boys away from extended family, my strive for perfection and some unexpected life challenges showed me that I was not unbreakable. I felt the need to change some of my engrained habits (and patterns of negative self talk) to live a happier, more balanced life. This is why I started to practice Qigong in 2014. I came to Uplift Yourself once a week and I slowly became calmer and trusted more. The effects on body and mind were very encouraging and I have not stopped since to change my mindset with this gentle and effective approach. Overtime I started to deepen my practice so that I could help others develop themselves with Qigong and Ren Xue. The tools can be helpful in almost all areas of life. My expertise lies in the application in corporate environments and parenting.
Education and Certifications
Yuan Gong Teacher Level 1-2 2017
Neuro Leadership Institute - Brain based Conversation Skills Certificate 2017
NLP Practitioner Courses with Team Winter in Austria 2007 – 2009
Master's Degree in International Business & Management Accounting, Johannes Kepler University, Austria 2001
Unilever leadership program 2001 – 2003
Unilever B2B Marketing Program at Rotterdam School of Management, Erasmus University 2004
Unilever Insight Activator Facilitator Certificate 2005
Interests and Achievements
Whenever I have time for myself, I like to learn about ways that make our lives brighter and happier. I enjoy reading books, trying new recipes, hiking, hosting a BBQ or dinner, learning about new countries and cultures and enjoying a nice cup of tea with a piece of dark chocolate. German is my mother tongue. I also speak English, Italian(my favorite) and French.

Martina Fischer-Klee instructs the following:
Method II and our supplementary practices are important tools to go inward and connect with a stillness that is so nourishing to our mind, body and Qi (energy). Having this time in our day reminds us of our most optimal and healthy state - calm, relaxed, natural and joyful. Take the opportunity to bring your practice to a new depth.




Take time out of your day to relax and replenish your Qi (energy). Enjoy simple, light movements that help release tension in the body, especially the shoulder and neck area, and help you gather more energy. As an active practice, we also incorporate Qigong squats which help to move Qi through the body, open up the whole spine, especially the lower back, and strengthen the legs.




People find that the more they learn from Ren Xue and Yuan Gong, the more benefit they experience. Our practices are simple and also have a depth that allows growth and development on many levels. Having a chance to learn theory, get support for practice and ask questions allows you to get more out of your practice. Give yourself the best opportunity to experience the many benefits.