Jane Boyajian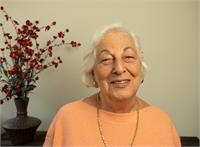 Level II Instructor. Teaching classes at Uplift Yourself, privates esp. Method IV/Xia Yuan on request
Doctorate, San Francisco Theological Seminary
Dissertation: Professional Practice and Personal Decision-making: Ethical implications from the perspective of totality
Career: Teaching health providers, policymakers, corporate leaders re the social and personal impacts of their decisions.
I've raised 2 daughters as a single Mom, and love living close to my grandchildren. I am Tibetan Buddhist practitioner and a community minister. And I organize travel groups.
These give me joy: my family, my garden, having friends for dinner, dancing at Bon Odori, the arts.
Wading at low tide, staring at nothing in particular, silence.
Finding words to describe the indescribable.
I'd love to share what I am learning through Ren Xue practices,
Because I wish for everyone these gifts which the practices offer me:
a stronger, healthier body
a more balanced, calmer life
my heart opening, trusting more
easing up, letting go of past sorrows
peace growing within and within our home
the visceral feel of interconnectedness in this moment. Now.
I've taught personal development in professional, health care, spiritual settings. In the US, Canada, Spain.
But teaching Ren Xue is different. Because we learn and become healthier together. Support and celebrate one another.
Jane Boyajian instructs the following:
Take time out of your day to relax and replenish your Qi (energy). Enjoy simple, light movements that help release tension in the body, especially the shoulder and neck area, and help you gather more energy. Finish with a standing meditation that helps calm and focus the mind, relaxing and turning inward.